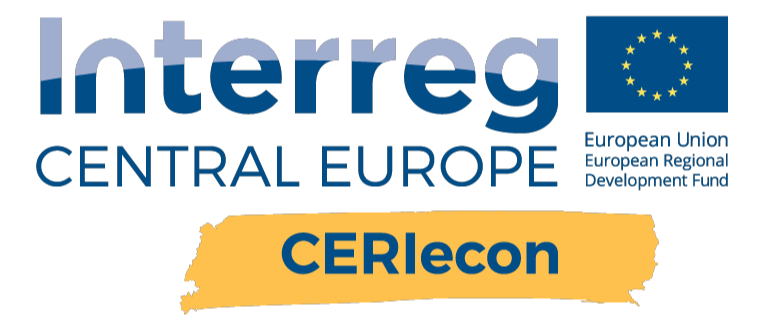 CERIecon – Central European Regional Innovation Ecosystems Network
Program
Interreg CENTRAL EUROPE
Project name

Central European Regional Innovation Ecosystems Network
Project acronym

CERIecon
Project partners

Stadtschulrat für Wien, Europa Büro (AT)
Wirtschaftsuniversität Wien (AT)
Veneto Region (IT)
Enaip Veneto Social Enterprise (IT)
Wirtschaftsförderung Region Stuttgart (DE)
Hochschule der Medien Stuttgart (DE)
Stadt Bratislava (SK)
Slovak Business Agency (SK)
Stadt Rijeka (HR)
STEP RI Science und Technology Park of Rijeka (HR)
Stadt Brno – Brno Zentrum (CZ)
Wirtschaftskammer der Tschechischen Republik (CZ)
Stadt Krakow (PL)
Wirtschaftskammer Krakow (PL)
Project duration
06/2016-05/2019
The European Office of the Vienna Board of Education has been involved for many years now in the submission, implementation and coordination of transnational projects that focus on the important topic of 'Entrepreneurship Education'.
The focus was initiated with the INTERREG IIIC project EdGATE (3E0044I-B) and then followed up with the Central Europe projects ET-struct (2CE273P1) and i.e. SMART (4CE429P1).
In the INTERREG Central Europe project CERIecon the topic "Entrepreneurship Education" has been taken a major step further with the development and implementation of an innovative training programme for pupils and students that deepens and broadens their entrepreneurial competences. This is backed up by teacher workshops to equip them to continue the training in their own classrooms.
Apart from this broad offer, the project also initiated the ongoing flagship CERIecon Playpark Brunches Club that brings together local entrepreneurs with pupils giving the young people the possibility to experience the varied aspects of an entrepreneurial life and to encourage and motivate them to move towards creating their own businesses when they leave school.
Webseite: more information